The Cambridge Impronauts have been performing improvised long-form narrative shows for many years. These shows are made up entirely on the spot, and we create an entire play with a plot, characters, emotions, atmosphere, and plenty of laughter. On this page, you can read about some of our past shows to see why we're so popular!
Most of the time none of the performers will even know what type of character they will be playing, or whether they'll be in a towering lead-role or a vital secondary character. There may be a format for each run, such as Romantic Comedy, Arthurian Legend, or B-Movie Horror – the cast and director will practice creating these stories, working together, finding relationships and reaching closure.
When it's showtime, you really will see an entirely unique performance.
If you don't believe us, come back the next day!
Videos
You can watch clips and even full shows of our past performances on the Impronauts YouTube Channel
Comic Sans: Return of the Serif
2021: Nov 25-27
An "Armando" style show with a Monologist and Improvised sketches to provide a space for underrepresented genders, as well as bringing many new performers to the stage.
5 ****
"This show isn't worth missing for anything" – The Tab
The Tab's Review of Comic Sans
Improltergeist!
2021: Nov 3-6
A fresh new ghost story every night! We created a delightful set of tales with apparitions struggling to resolve unfinished business. Quests, challenges, hitchhiking and ho-downs!
4 ****
"Fun, Outrageous" and "Thrillingly Absurd" – Varsity https://www.varsity.co.uk/theatre/22380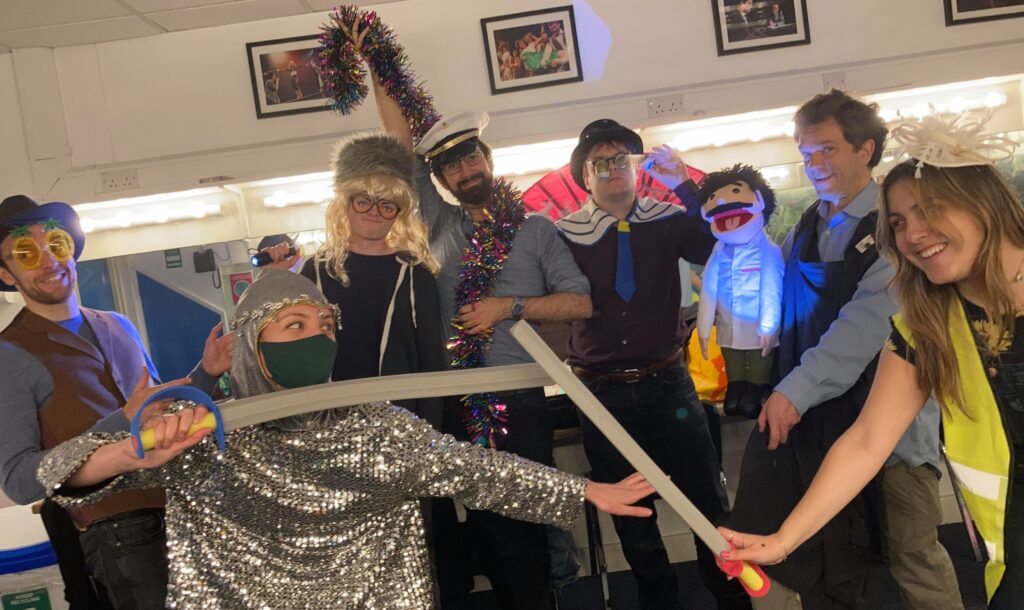 BREAKING: An Improvised News Broadcast
2021: Wed 16 June
On air they're seasoned professionals – but when the cameras stop rolling, no-one is sticking to the script!
The Cambridge Impronauts hosted a hilarious improvised news show dealing with drama on camera, and behind the scenes! We had a video link to our field correspondent and streamed the show as well as having a wonderful theatre audience.
Clickfire! – Nauts Go To The Movies
2021: Wed 5 May
Grab your popcorn, and put on your 3D specs! The Impronauts are taking you to the movies. Join us for an hour of live, cinema-inspired comedy: streamed for free in all regions of the globe.

Head over to Clickfire: Nauts Go To The Movies to watch it now!
Hacked Mirror
2021: Fri 19 – Sun 21 March

Evil corporations trying to steal our data? Algorithms nudging every single one of our decisions? Governments spying on our every move? The cult of improv comedy takes over the entire world?
The Impronauts present their first-ever totally online long-form show in their humorous take on dystopian tech dramas – Hacked Mirror.Take a look into a dystopian future only moments away from becoming reality. And it's all invented by you – the audience – with the help of our talented improvisers, as we take modern life and technology to its hilarious extremes.
If you missed the live show, you can still settle down and play it back at your convenience. All 3 shows are here: Hacked Mirror – YouTube
Clickfire – Love Edition
2021 : Wed 10 Feb
The Impronauts are back, and coming through your computers once again to deliver joy and laughter into your eyes and ears!
Watch our once-live-streamed improvised games on YouTube
We celebrated love in its many forms, so there's something to warm everyone's hearts.
Impronauts: Neapolitan I.C.E.
2020 : Wed 25 Nov
Neapolitan I.C.E. brings you 3 Flavours of Improvised Comedy Entertainment!
The Cambridge Impronauts created not 1, but 3 live shows for you!
The Weird Ask Podcast – An investigation into a mystery of your choice.
Emotional Trifle – Enjoy a generous helping of our brand-new layered improv treat.
Wheel of People – A rip-roaring story, just for you.
Sorry you missed it, but you can still watch here: Neapolitan I.C.E.
Clickfire! – Live Freshers Show
2020 : Wed 7 Oct
Impronauts: Clickfire! is our Quickfire! short-form show re-imagined for the internet. It's an hour of made up of improvised comedy scenes and skits. Nothing is scripted in advance. Everything you see is made up on the day based on audience suggestions!
The show was Free, and our way of saying "WELCOME!" to newcomers and "WELCOME BACK" to everyone else.
You can still catch it here! And read about the Director, Barney for his Improv views and tips!
RAG Fundraiser: Weird Ass Podcast
2020 : 4 Sep
Cambridge RAG asked us to create a show to raise funds for The Stephen Lawrence Charitable Trust (If you can afford to donate, please do! Thank you.)
We made the "Weird Ass Podcast" : a comedy, mystery-investigation, improvised podcast-style show.
We asked Helena Forrow, who created the show, to tell us more.
Comic Sans Men Again – 5 *****
2020: Wed 4 – Sat 7 March
"Comic Sans Men, Again is an unbelievably good time…fun, irreverent, and genuine – it would be a mistake not to go and see that for yourself"
– Varsity
https://www.varsity.co.uk/theatre/18908?
They say third time's the charm, although the first two times were pretty charming too!
Comic Sans Men Again returned to the ADC stage with an hour of hilarity, without a script or a man in sight.
Roman used to think that women couldn't be funny.
Roman doubted that comedy could be made up on the spot.
Silly Roman.
Now the time's new, Roman
Impro-geddon
2020 : Wed 29 Jan to Sat 1 Feb
At the ADC Theatre and our talented team of comedy improvisers performed the apocalyptic movie that you wish existed!
What catastrophe will you have them thrown into tonight? You decide! Are all the Sheep now hungry for human brains? Did bloodthirsty Sharks get swept up into an endless Tornado? Has Big Ben Exploded and now Time Itself No Longer Exists? How will our stage-denizens survive? What will become of their dreams, ambitions, and relationships when society is turned upside down? Let the drama (and comedy) unfold!
Preview Interview in Phoenix Remix: https://thephoenixremix.com/2020/01/26/interview-have-the-last-laugh-with-impro-geddon/
Whim City:
A Film-Noir Improvised Comedy
October 2019
The Cambridge Impronauts present Whim City: An Improvised Film‑Noir . Your suggestions create a hilarious, dark, new story every night. Think trench coats, dark alleys, gruff voices and a complete disregard for human life.
Will you see two rival gangs battling over possession of a kidnapped politician? A lone gunman taking on the full force of the mafia to avenge a dead lover? A corrupt policeman who will stop at nothing to find their lost kitten?
The audience will decide…
We were very lucky to put on a run at the ADC, and also to bring it back with our friends at Stealing the Show
Previews
Phoenix Remix: https://thephoenixremix.com/2019/11/04/show-of-the-week-interview-whim-city-an-improvised-film-noir-impronauts/
Varsity: https://www.varsity.co.uk/theatre/18164
Reviews
"As usual, the Impronauts showcased their characteristic fluid wit and quick-thinking comedy."
"I will likely always recommend the Impronauts for a fun and enjoyable evening which they have never failed to deliver."
– The Cambridge Student
"The Cambridge Impronauts have assembled a stellar troupe of actors for their latest contribution to the Cambridge comedy scene, Whim City: An Improvised Film Noir. […] bringing the film noir genre to life in a way that is camp, fast-paced and, most importantly, very funny."
– Varsity
Edinburgh Fringe 2019
This Edinburgh Fringe, let the Cambridge Impronauts steal your heart with a brand-new romantic comedy created on the spot, where you can be the star. Watch characters created from your descriptions go through the trials of love, be it first dates, awkward breakups, or, if they're lucky, happily ever after. It's a love story to warm the cockles of your heart and make your belly ache from laughter, and it will only be performed once. Don't stand us up.
Pre-Show interview with Phoenix Remix:
https://thephoenixremix.com/2019/07/28/funny-at-the-fringe-interview-cambridge-impronauts-improv-actually/
" in awe of improv performers' ability to create a story on the spot […], and now I hold those who do the same musically in similar esteem."
"the improvised love story managed to be funny and engaging, feeling cohesive throughout"
– Fringe Binge 2019​
"…exactly the kind of fast-paced humour that makes improvisation work…"
"…admiration must also go to Jonatan Rosten, who provided a beautifully subtle keyboard soundtrack to moments of tenderness or conflict…"
– Varsity 2019
ATTACK OF THE 50FT IMPROVISERS!
June 2019
Varsity gave us 4-Stars! https://varsity.co.uk/theatre/17679
Can't get enough of swamp creatures and space aliens? Vampire children and crazy conspiracy theorists? Want to see how we'd battle killer household appliances or have a secret fear of fish? Watch us bring to life a new cult classic sci-fi horror movie before your very eyes!
The Cambridge Impronauts present Attack of the 50ft Improvisers! a thrilling improvised B-movie based entirely on your suggestions! Against all odds, our unlikely heroes will battle against otherworldly foes based entirely off audience suggestions. Buckle in for crazy characters, terrifying plot twists and horrendously dramatic death scenes. Each movie will be shown for one night and for one night only! Come along if you dare…
The Once and Improvised King
March 2019
Varsity gave us 3.5 Stars: https://www.varsity.co.uk/theatre/17283
Hail and hearken, gentle audience! Have you heard the ancient legends of King Arthur?
Camelot, and the Knights of the Round Table?
Of their Quest for the Holy Grail
Lancelot and Guinevere's forbidden love?
Morgan Le Fay, and Merlin the wizard?
Well, there are many more stories still to be told – especially the ones we haven't made up yet…
The Cambridge Impronauts present The Once and Improvised King, an all-new cycle of Arthurian legends made up each night based on audience suggestions. An entirely improvised retinue of knights, ladies, enchanters, trusty squires, wise elders, incognito noble youths raised in obscurity, champions, fools, hermits, marvels and monsters shall embark upon a quest of the audience's choosing. Battles shall be fought, things shall be found, and loves shall be loved. And maybe we'll fulfil one or two ancient prophecies along the way. That happens, apparently.
Comic Sans Men 2.0
February 2019
The Cambridge Student: 4 Stars! TCS Review of CSM2.0
After the overwhelming success of last year, Comic Sans Man 2.0 returns to grace the ADC stage with an hour of hilarity, without a script or a man in sight. Roman used to think that women couldn't be funny. Roman doubted that comedy could be made up on the spot. Silly Roman. Now the time's new, Roman.
2018 and Earlier
Our history is writ on the pages of CamDram https://www.camdram.net/societies/cambridge-impronauts/history